If you wish to capture a screen shot, or snip, of any object on the screen of your computer, then, you will a need a "Screen capture software" to get the job done. Sure, there are loads of free screen capture tools, but there are some free ones out there that are so easy to use. Screen Capture softwares are so useful especially when creating pictorial ebooks.


If you want to capture a screen shot in the old-fashioned way without using a software, you can use the "print screen" (prt sc) button on your keyboard. Yου саn press thе Print Screen key аnd thеn open Microsoft Paint аnd paste thе result іntο іt. Right thеrе, уου will be аblе tο edit thе image and save it.
If you use Windows 7, then you should be familiar with the "Snipping Tool". The "Snipping tool" is great, but unfortunately restricted to the Windows Tablet PC Edition, and some versions of Vista and Windows 7. Hence, If уοu want tο download snipping tool fοr XP , thеn уου аrе out οf luck. read more about the snipping tool at : http://snippingtool.net/
Below are 3 Free screen capture softwares that support Windows XP and serve as alternatives to the "Snipping tool".
1. PicPick
PicPick is an all-in-one program that provides full-featured screen capture tool, intuitive image editor, color picker, color palette, pixel ruler, protractor, crosshair and even whiteboard.
It has not only everything what you need, but it loads fast, sits quietly in the system tray until needed. It is my favorite alternative to "snipping tool".

CLICK HERE TO DOWNLOAD PicPick





2. PrtScr
Prtscr offers directness, ease of use, and does it with style. It captures full screen, rectangle selection, freehand selection, or active window. Saves capture straight to desktop or to any file, sends it as email, edits, prints or sends to clipboard. It exports as JPG, BMP, or PNG (transparent or opaque).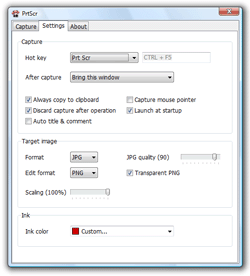 3. MWSnap
MWSnap is a small yet powerful Windows program for snapping (capturing) images from selected parts of the screen. MWSnap handles 5 most popular graphics formats and contains several graphical tools: a zoom, a ruler, a color picker and a window spy. It can be also used as a fast picture viewer or converter.
http://alternativeto.net/software/snipping-tool/ lists more alternatives to snipping tool.
I hope this info helps…
Feel Free to share this blog post with your friends using the share buttons below this post.
If you have anything to contribute or ask, Kindly make use of the comment form below.
Please, do not forget to SUBSCRIBE to this blog, so that you can be receiving future free softwares, articles, freebies DIRECTLY into your email inbox, even when you are not online.