If your blog is hosted on Blogger, you can be posting to your blog by just sending emails if you enable Mail2Blogger in your Blogger dashboard. The Mail-to-Blogger feature turns any email account into a blog-posting application.

This feature has been making it possible for me to post to my blog using my mobile devices: Nokia Asha 202, my blackberry, my Samsung Android smartphone and my iPad. Hence, if you do not have a computer, you can still be posting to your blog if you have a mobile phone that can send emails.
For you to be able to post via email, you will have to enable email2Blogger and create a Mail-to-Blogger address which you will use to send posts via email to your blog. You can use the address to post text and images (up to 10MB in size) directly to your blog, though you can choose to publish email immediately or save emails as draft post.
How To Get Started
==> Login to www.blogger.com
==> Go to "Settings" –> "Mobile and Email"
==> To post to your blog via email, you need to configure your Mail-to-Blogger email address in the Email section: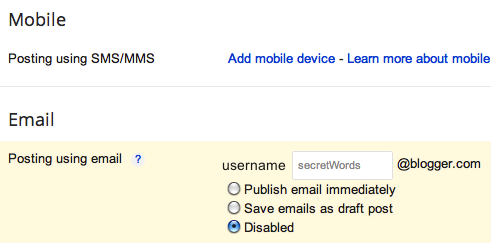 ==> Enter a secret word in the "SecretWords" box. The word you choose should be hard for others to guess but easy for you to remember.
==> Click the "Save settings" button.
Your Mail-to-Blogger email address will be: username.secretword@blogger.com.
So, whenever you want to post to your blog via email, all you need to do is to compose the email message and mail it to the Mail-to-Blogger email address you created above. The subjects of your emails will be the titles of your posts, and the body of the emails will be the posts themselves. To include an image in your post, you can attach an image to your email.
Note that this email address must be kept secret. Otherwise, anyone who gets it will be able to post as you to your blog.
Also be sure to specify whether or not you prefer your email posts to publish automatically. If this option is not checked, then your posts will be saved on your account but will not appear on your blog until you sign in to Blogger.com and publish them yourself.
Notes:
Sometimes email programs append text to the bottom of each sent message; to make sure this cruft doesn't get posted to your blog, put #end at the end of your post.
That's all.
In my future posts, I will share with you how I post to my blogger blog with Blackberry and also how I use OviMail of my Nokia Asha 202 in posting to my blog. Just make sure you subscribe to this blog, for you not to miss the tutorials.
I hope this helps.